Dnevni list Blic je odlučio da ponedeljkom nastavi da poklanja knjige za decu. Ovog ponedeljka, 31.jula poklon knjiga je "Mačak u čizmama".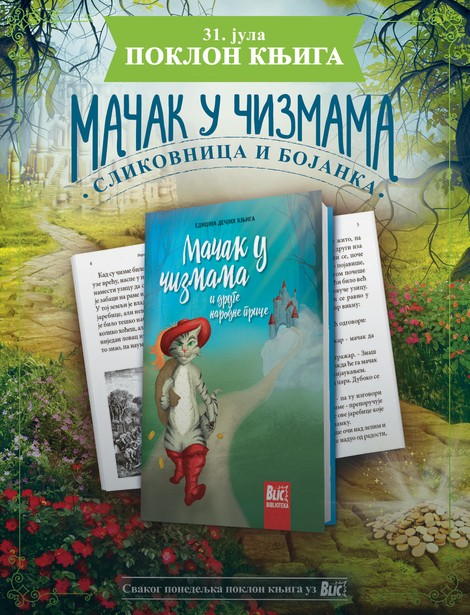 Najava:
Danas čitaoci Blica ne dobijaju samo jednog mačka, već dva. To nije nikako mačka u džaku. To su mačori prvoklasni, pametni, oni koji dolaze u pravi čas sa pravim odlukama i delima.
Prvi je mačak u čizmama, a drugi je mačak koji je kupljen za jednu paru. Obojici je zajedničko isto: rečnikom savremenog kapitalizma rečeno, njihova početna vrednost je mala. U prvoj priči on je naoko bezvredno nasledstvo koje je dopalo najmlađem od trojice braće, u drugoj, on je kupljen od dece koje hoće da ga udave. Obojica vlasnika mačora su dokaz da kada je srce čisto, nagrada ne može da izostane.
Ipak, u krajnjem ishodu, lukava mačija priroda nije na poslednjem mestu, kao i znanje i umenje lova miševa u zemlji u kojoj mačaka nema. A tamo gde mačaka nema, poslovica kaže, miševi kolo vode.